New Features of YouTube 2017: YouTube bundled together a bunch of big change on August 2017. It has changed from design, Logo to new features update. Not only for the desktop but for mobile app got significant upgrades. Here the quick review and Updates news of everything new.
New Features of YouTube 2017
Earlier To Now – YouTube at a Glance:-
YouTube is working every single bit of time from earlier to now. When YouTube Website first launched on the internet 12 years ago, it was a single website that supported one video format, I.e. 320×240 at 4:3 aspect ratio. A very poor quality video compare to now YouTube. YouTube has developed in different ways for better user experience.
[2005 – 2017 Journey of YouTube Design]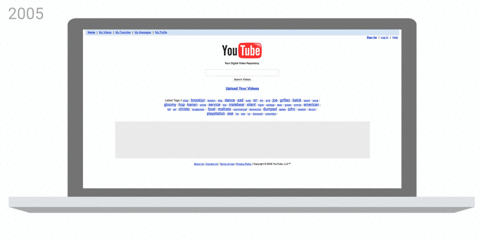 If you see today's YouTube then it is a combination of SD, HD, 4K, 360, 3-D, and live video on nearly every device with an internet connection – from desktops to phones, tablets to TVs, game consoles, and even VR headsets.
YouTube is not stopped till then it has also introduced apps and services that give you new ways to watch and get even closer to the content and creators you love.
All Music fans, gamers, Entertaining shows and TV lovers each have unique awesome watching experiences. YouTube also create YouTube Kids app to entertain them.
YouTube is also created YouTube Red for their fans who interrupted by ads. The YouTueb Red members can get an ad-free experience and exclusive original content from creators.
Benefits of New Designed YouTube for Users:
1. The new design of YouTube is much cleaner faster and better than previous one.
2. YouTube describes the new look as "clean and fresh, The new design removed visuals that can distract users from browsing or watching experience".
3. The main menu on YouTube now uses a smaller font size, which maximises the number of video thumbnails that appear on-screen.
4. Now users can also hide the menu by clicking on the menu bar– clearing up all of your screen real-estate for YouTube videos.
New Features of YouTube 2017 – What is New?
New Features and Updates On Desktop
YouTube was activated on February 14, 2005. The first video published on YouTube is "Me at the Zoo" it is about 18 sec long. The desktop version of YouTube has changed A LOT over the last 12 years.
1. Iconic Logo  
A new Iconic Logo that loses the emphasis on YouTube and adds the now-iconic play button with the new font and attractive colour.
2. Google's Material Design for Desktop
The New look for the desktop that highlights Google's Material design aesthetic. The YouTube site design is made on a new, faster framework named Polymer, which allows faster feature development from here on out. YouTube Theme is now less red and more white space. There is now an extra area for video thumbnails.
3. Dark Mode Desktop Theme feature
YouTube now has a new option that named dark mode! The dark mode feature is one of the first new features developed on Polymer: Dark Theme. If You enable the Dark Theme your background dark throughout your entire YouTube experience.
4. Awesome Error 404 Page
YouTube has made a nice monkey and they are showing on their Error 404 page. You know, Error 404 pages are that pages which are currently not available on the web server. You see the error page of YouTube below.
NOTE:– [To Enable Dark Mode Follow The Steps: Once you're using the new design of YouTube.com/New >> click on your account's round avatar in the top right-corner >> Tap on the option marked Dark Theme, then tap Activate Dark]
Benefits and Bunch of New Features on Mobile
YouTube has also a bunch of new features for YouTube Mobile app. So, let's see what are those changes.
1. The YouTube mobile app got an Iconic Material design. Same as the desktop experience, with a white space and no red banner on top. All the navigation tabs are placed to the bottom of the app for closer to your thumbs. YouTube also added new Library and Account tabs which give you smoothly to access to what you're looking for better experience.
2. YouTube has also worked on variable speed. The popular desktop features are now on mobile. So, a user can get more advantages using YouTube app.
3. Using YouTube mobile app users can display vertical video without those annoying black bars. That means Users can get the best viewing experience automatically – including vertical videos without those annoying black bars on the sides!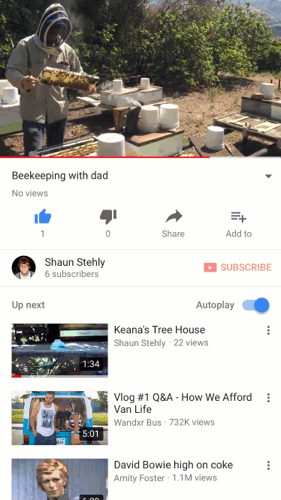 4. Now, YouTube Mobile app also allows you for fast forward video experience. Gestures to YouTube allows you to double tap on the left or right side of a video to fast forward or rewind 10 seconds. The user can easily just swipe left to watch a previous video or swipe right to watch the next one by using YouTube Mobile app.
5. You can enjoy videos at whatever speed you prefer. The YouTube mobile app users able to speed up and slow down the playback of a video not only on the desktop but Youtube has brought this feature to the mobile app.
6. Browse and discover while you watch: YouTube has recently added a feature that allows you to view a row of suggested videos while you're watching in full screen.
Conclusion:-
YouTube has made a lot of change, but still want to make clear that there's one thing that stays the same: YouTube's mission. So, they are working on it every single bit.
Hope you like this article about New Features of YouTube 2017 If you have any quarries or have any question about then you may ask fluently leaving your comment below. We will try to give your solution as early as possible.
Thanks for reading.