Corel Painter and Corel Draw are the two popular products of Corel. This software helps the artists to show their creativity on the digital platform. But, here the question is which software is better and how. So, we will differentiate between these Corel Painter and Corel Draw but before this first, we will overview Corel Painter and Corel Draw.
What Is Corel Painter?
Corel Painter application was started by Mark Zimmer and Tom Hedges, they were the founding father of Fractile Design Corporation. Corel Painter is a raster-graphic digital art application that is created to mimic the traditional idea of painting, drawing, and printmaking precisely. There are many Corel painter alternatives available on the Web but most of the professional artist prefers this software.
What Is Corel Draw?
Corel Draw was developed by Corel engineers Michel Bouillon and Pat Beirne in 1987 and was released in 1989. Corel Draw is a vector graphics application and is mostly used to draw logos and graphics by using vectors that can be fit in any dimension.
Comparison between Corel Painter And Corel Draw
We will compare both of the programs based on the following points such as features, pricing, pros, and cons, etc.
Who Offers Better Features: Corel Painter Or Corel Draw?
As we have mentioned both the products are offered by Corel. And Corel offers great quality software both Corel Painter and Corel Draw have a wide range of features that we have discussed below:
Features of Corel Painter
This application can easily convert photos into painting with an auto-painting and cloning tool.

It has flexibility in brushes, we can change shape, effects, size, and rotation of the brushes.

It has a color wheel or mixer to make the perfect color palette.

It upgrades your artwork by using papers, textures, gradients, looks, images, etc.

It has canvas control. You can zoom, rotate, and put in lightning surface texture easily. Also, While comparing

Corel Painter and Clip studio Paint

we found it provides a wide range of brushes and templates options. 
Features of Corel Draw
It is touch-friendly which easy for rapid adjustments, and has more window space by only usable tools will be displayed.

All types of fonts are available in Corel Font Manager by which you can manage or apply any font easily.

It has prominent interactive sliders which makes your work easy with object fillers, blends, drop shadows, and contours.

By using enhanced vector previews, nodes, and handles it edits the effects and objects more competently.
Pros and Cons of Corel Painter Vs Corel Draw
Advantages of Corel Painter
There are plenty of brushes in Corel Painter which you can change in so many ways.

It is a mirror software for traditional art like using brushes, paint, and other art materials.

This program has various features like Artist Tools, F/X Distortion, Image Hose, Pattern Pens, etc.

It offers to create the color effect with oil pastels, color pencils, watercolor, etc.
Disadvantages of Corel Painter
There are so many functional bugs that make it hard to work with.

Cannot open up a 16-bit image.

It looks and works like the 90s coded program it needs to rebuild its user experience.

It's hard to work with it because of its bad user experience and usability.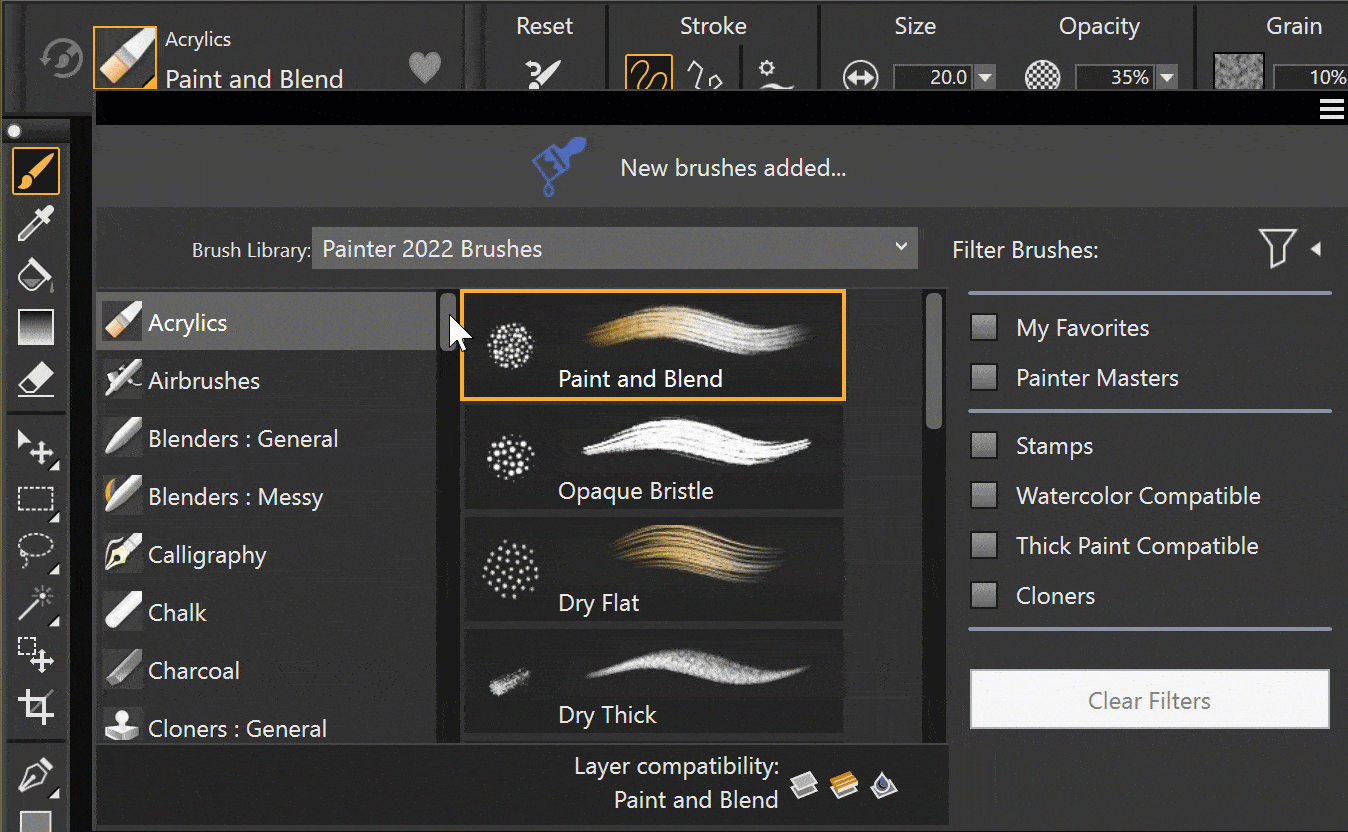 Advantages of Corel Draw
Corel Draw is very easy for beginners to use because it is easy to handle and contains tutorial videos so they can learn it alone.

It can create a different combination of layers with a simple command like using simple lines and geometric shapes and gives satisfactory results.

It has better quality software you can draw any type of logo by using its software.

It is easy to learn and understand for a non-digital design software background.
Disadvantages of Corel Draw
It can generate bugs and crashes because of the complication of work.

Some tools of Corel draw have complex features which are hard to understand for beginners.

Each file has to be updated to the latest version because others files cannot be opened with a previous one.

There is limited function during the trial but after purchasing the application it will be fixed. 
Usability: Corel Painter vs Corel Draw
The usability of Corel Painter is quite terrible because of its weird issues like it creates difficulty while moving a brush from one page to another until you separate the pallets and windows. While Corel Draw does graphical designing professionally. It is a good program with good satisfactory user connection.
Pricing: Corel Painter & Corel Draw
Starting price of Corel Painter is $429.00 per license and Corel Draw pricing is $198.00 per year. Corel painter provides a free trial period for 30 days whether Corel Draw has 15 days trial period.
Conclusion: Corel Painter Vs Corel Draw 
After discussing the different aspects we concluded that Corel Draw is better than Corel Painter in many ways, both the programs have advantages and disadvantages. 
Corel Painter has so many functional bugs and has to re-built its experience while Corel Draw has professional graphic results and has perfect drawing software. To read more articles like this you can check on WebTechCoupons.